May 5 22
Why Kiwi Self Storage customers are New Zealands most satisfied Self Storage Customers
Kiwi Self Storage is the current recipient of the Canstar Award for most satisfied customers for Self Storage. So, what are our storage customers in Auckland and Wellington looking for in their self storage?
The award independently compares all the major players across the storage industry in the following categories:
Overall Satisfaction
Accessibility
Convenience of Location
Customer Service
Quality of Storage
Safety and Security
Value for Money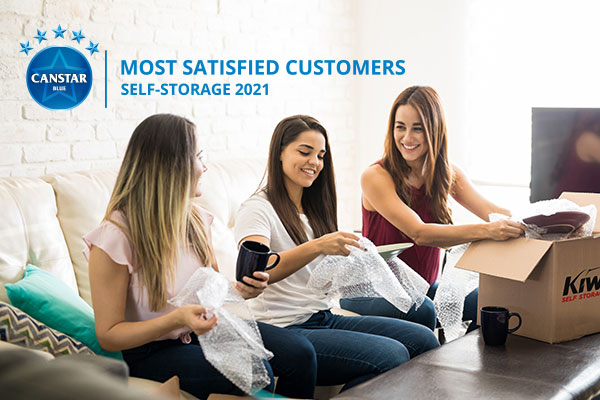 Kiwi Self Storage can proudly say that our storage facilities were the only ones to receive 5-stars for Overall Satisfaction from our customers. We also outperformed everyone else being the only self storage company to be credited with 5 stars for Customer Service, Safety & Security, and Value for Money. This is amazing recognition of the quality of both our storage units, and our staff.
Kiwi Self Storage has become known nationally, however we have three Auckland Storage facilities and two Wellington storage facilities.
Many of our private customers join us when they are moving homes, and from there they often realise they could use some extra space and continue storing with us in a smaller unit. We can easily accommodate adjusting your unit size to ensure you're only paying for what you need. Kiwi Self Storage has become known nationally, however we have Auckland Storage units and Wellington storage units. We have been providing storage for Auckland and Wellington for over 20 years. With storage units ranging from 1m² x 2m² through to 6m² x 3m².
What makes our storage customers happy?
It has been shown that the biggest driver for customer satisfaction is in fact our Customer Service. Nearly a quarter of people surveyed by Canstar rated this as a higher factor than anything. This is huge a credit to the wealth of knowledge our onsite managers are able to provide, and their ability to go the extra mile to help customers. They are always keen to ensure you pick the right storage unit to suit your requirements, and help you through the entire process
Following on from customer service the next two major factors our self storage customers are looking at are Safety & Security, and Value for Money.
Each of our facilities have prioritized security including: electric perimeter fencing, coded gate access to the facility, CCTV, and all of the units are individually alarmed. Resident managers live onsite to ensure 24/7 response when the need arises.
Accessibility is also a key factor which we rated 5 stars for. 35% of self storage customers surveyed by Canstar value a close/accessible facility over price. All of our storage facilities are conveniently located close to major motorways, with easy access. Our Auckland storage units can be found directly off SH1 on the North Shore at Constellation Drive, and off SH20 in Mt Roskill and Ellerslie. Our Wellington Self Storage facilies are easily accessible via SH1 as you come into Wellington at Newlands offramp, and close to the Airport in Kilbirnie.

Whatever self storage facility you end using be sure that you feel comfortable at the facility, you get on well with the staff and you are happy leaving your belongings there for any duration of time. We think you'll be happy storing with us but it's up to you to decide. 
If you are looking for all the information you might need about self storage, you can check out our regularly updated Comprehensive Guide to Self Storage