Nov 11 19
Converting garage to a home gym
Have you ever wondered what it would be like to work out in the comforts of your own home? Or perhaps you are getting more serious about your training, and having equipment at home is an integral part of your training schedule. A home gym is a solid investment for your health and well being. We've taken a look at what you need depending on how you like to workout.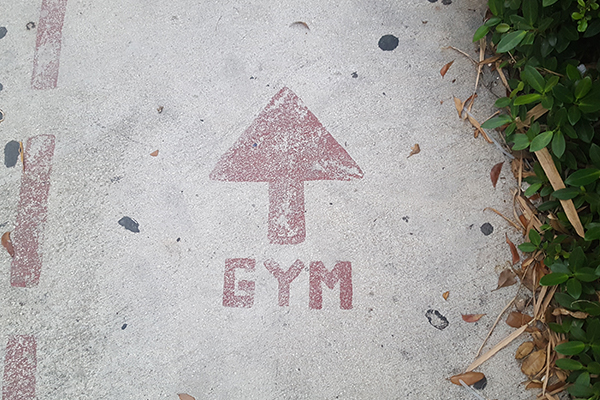 The top reasons people decide to setup a home gym include:
No crowds - Tired of waiting around to use equipment during peak hours?
No traffic – Sometimes the commute makes doing your workout seem even harder.
No Rules – Want to grunt as you workout…do it. Want to drop your weights…do it.
No Intimidation – Not feeling confident surrounded by gazing eyes at the gym?
Personal equipment choices – Everyone has their own style.
Financial benefit – In the long run you will saving thousands.
Saving time – Remember those commute times?
Flexibility – Feel like working out in your PJ's at 3am? No problem.
Cleanliness – No puddle of sweat left behind by the last punter without a sweat towel.
No need for child care – For parents out there, this is a legitimate issue, and another factor fighting against getting those workouts in.
Better music – Your house, your playlist.
The main deterrents from setting up a home gym are really non issues when you think them through.
The initial cost outlay - It will be a substantial figure, however once setup this will pay for itself in a few years, and then it is all savings.
Loss of space – The garage is the perfect option. Let's face it – no one uses their garage for cars. Storage? Yes. Bikes? Yes. Rudimentary home beer making kit? Yes. Many of us actually end up using our garages as storage space these day as opposed to parking our cars. For a fraction of the cost of most decent gym memberships you could place items you don't want to clear out into a self storage unit, and get your garage setup as your own personal gym.
Release yourself from the shackles of self-doubt and a long-term gym membership and invest some money in building your own personal gym.
You will have the freedom to pick and choose what equipment you need based on your fitness needs.
Where to begin?
When it comes to preparing the garage for use as a gym, you need to start off by clearing out the clutter and only keeping items that you need. Consider making or purchasing a ceiling rack or a standalone storage cupboard to keep everything organised and contained in one area. You may even consider self storage as an inexpensive option for storing extra stuff around the house.
The aim is to clear up some floor space for your equipment and having ample space to complete your workouts. You don't have to dedicate your entire garage to being a gym, however you don't want to be working around clutter.
Once you have your space cleared you will have a better idea about what you will be able to do with the space.
Like the numerous workout methodologies available, there are different setups which would suit your workout requirements.
For all scenarios there are some essentials you should seriously consider:
Insulation – Not the first or most glamorous thing that comes to mind when talking home gyms, but there will be nothing worse than walking in on a frosty winter morning to try and work out in an ice brick.


Floor padding – Whether you're protecting your floor from weights or prefer not to do floor exercises on solid concrete, the appropriate floor padding will be required. Proper gym flooring will also help reduce the sound level coming out of the gym. Aim for commercial grade foam flooring. This will last you years and is very affordable.



Dumbbells – No matter what style of exercise you are into a good set of dumbbells won't go amiss. Be sure to also invest in an appropriate rack for safe and secure storage in between sets.



Weight Storage - Storage isn't just about making your garage gym look good, it's about protecting all that equipment you've just invested in. Knocks, scrapes and scratches can have an effect on your training, reduce the longevity of your equipment and make everything look a bit worn. There are lots of storage options for garage gyms. It just depends on what you're storing.


TV and Audio Entertainment Setup - It is important to think about the visual devices and sound system that you have in your home gym. For some, simply using one's headphones is sufficient, however, there are those of us who like to have surround sound or perhaps a visual aid in addition to working out. Remember, the key to enjoying your home gym is for it to keep you motivated. You will want to setup a Smart TV (Which most are these days). Whether you're spinning or putting on some boxing gloves, there are no shortage of interactive classes you can stream to keep you motivated and on track. And if you are simply pushing some weight around you can put on your favourite music channel or stream a playlist through the likes of Youtube.


For all the group fitness junkies out there Lesmills has actually created an ondemand service which covers a wide variety of workout styles including Strength, Cardio, HIIT, Flexibility, Core, Dance, Yoga, BARRE, Post Pregnancy, and more…
No more shoulder to shoulder action with some pumped-up fanatic on the floor at the gym – the floor space is all yours and only a stone throws away from your front door. What more could you ask for?


Stretching area - Every fitness guru will talk about the importance to warm up and cool down before any workout. Your muscles need to be in a flexible state to avoid injury so setting aside 10 minutes before and after is well worth it in the long run. A stretching mat would make a great addition and has the added benefit of being rolled up when not in use. You could also consider getting a stability ball and resistance bands to add to your collection.



Other things to consider is ensuring the space inside the garage is well ventilated – you want to make sure the air you are breathing in and out is clean and perhaps look into using some form of insulation to make sure the gym will get well used even when its cold outside. Also check the roof and make sure it's in tip top shape to avoid any leaks and causing damage to the gym equipment.
Now let's go through a few methods of training, and what you will need for each of them.
The Yogi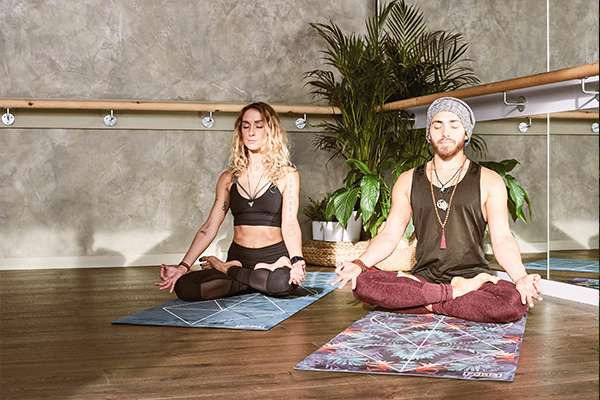 If you're into your yoga, and some minimal weights training you won't need to buy a large amount of equipment, however you will want to focus more the aesthetics of the space. To be an effective yoga studio you won't want any reminder that it is a garage.
Be sure to clear out the space and put any excess items into storage. Put on a fresh coat of paint, and ideally you will want to adjust the lighting of the room. In this scenario it's not just a matter of space for movement but mental space as well.
Cold concrete flooring is also not particularly conducive to yoga, so you will want to install some floor coverings. Consider installing space heaters and air conditioners to keep the space comfortable throughout the year.
Create a space where you can find your Zen.
Pilates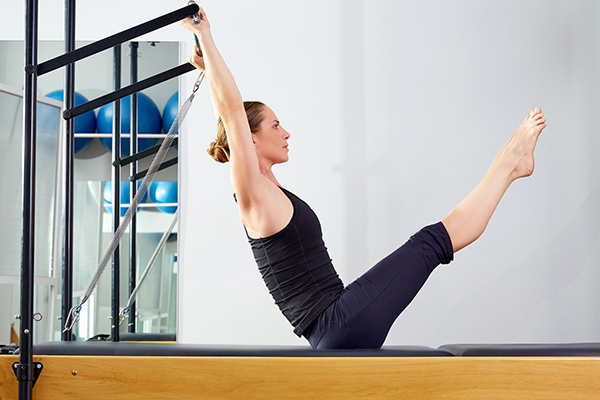 Pilates has been around for some time now, and it's as popular as ever. Like yoga you can get away with minimal equipment for Pilates. However, with machines and new techniques you can now try variations on Pilates that challenge you more than ever.
The basics that you will need are:
Pilates Mat - You can use a yoga mat for Pilates, however there are specific Pilates mats that are a little thicker. These mats provide much-needed cushioning for the rolling moves characteristic of Pilates. Choose a durable mat that is comfortable and long enough for your body.
Hand Weights / Weighted Balls – You can increase the intensity of your Pilates workouts by adding weight. These won't need to be heavy. In fact, suggested hand weights for Pilates generally range from 0.5kg to 2kg each and weighted balls are typically around the same. Remember you will also want a system to store them and keep them out of the way when not in use.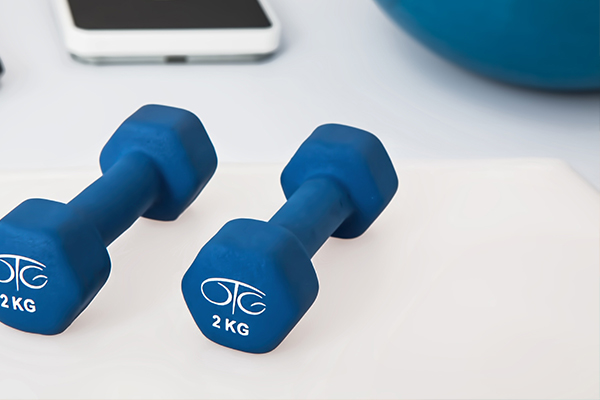 Pilates Ring - These are available in different sizes and weights. Consider adding a wall hook for easy storage of your ring.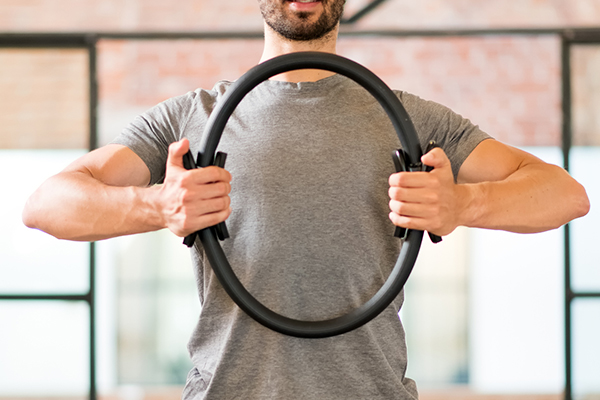 Foam Roller are used in some workouts for stability. The added benefit of a foam roller in your home gym is for stretching and releasing tense muscles after a workout. A foam roller gives similar results to a deep tissue massage when done correctly. Choose a foam roller that is not too rigid nor too soft and consider installing a shelf or bucket for storage of your foam roller in your gym.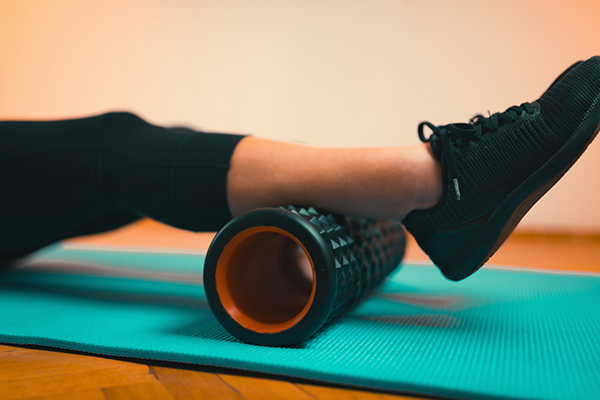 Additional equipment:
Pilates Reformer - It is a bed-like frame with a flat platform on it (the carriage) which rolls back and forth within the frame. The carriage is attached to one end of the reformer by a set of springs. The springs provide choices of differing levels of resistance as the carriage is pushed or pulled along the frame. The carriage has shoulder blocks on it that keep practitioners from sliding off the end of the reformer as they push or pull the carriage.
At the spring end there is an adjustable bar called a footbar. The footbar can be used by the feet or hands as a practitioner moves the carriage. The reformer also has long straps with handles on them that are attached to the top end of the frame. They can be pulled with legs or arms to move the carriage as well. Body weight and resistance of the springs are what make the carriage more or less difficult to move. Reformers parts are adjustable for differing body sizes and different levels of skill.
Pilates Tower - The Tower is a progression of the Reformer. It is a vertical unit that uses a variety of attachments - a roll-back bar, arm springs, leg springs and a push-through bar to provide a full body workout. Basically, it uses a multitude of springs! The Pilates Tower is an extremely adaptable piece of equipment and can be used to further challenge or give support in order to address the functional needs of the advanced as well as the beginner Pilates enthusiast.
Pilates Chair - The Pilates chair is designed as a compact option for Pilates workouts. This piece of equipment is designed to increase and improve stability and can provide similar benefits to other expensive Pilates equipment.
The Powerlifter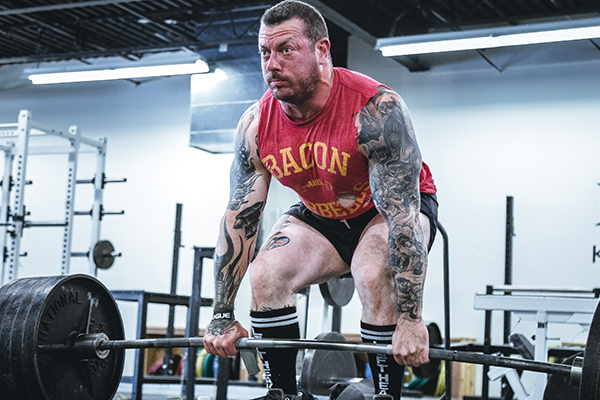 If you're a serious powerlifter you will likely be giving me a funny look when I attempt to mention the equipment you need. But if you're simply starting to get into you may take on some of my advice.
Powerlifting focuses on 3 core lift. Squats, bench press, and deadlifts. Powerlifters will often choose to setup a home gym as opposed to going to a commercial gym, because the simple fact is most gyms aren't optimised towards powerlifting. There are five items that every powerlifting gym needs:
Power rack – Fundamental to safe lifts, the power rack is used for both your squats and bench press. There are two versions to choose from, which are governed both by cost and personal preference.
Full rack - most commonly used because of their durability, usability, and versatility. They consist of either 4 or 6 steel posts and a section inside from which your movements will be performed. Full racks are best for extreme weight loads which will often make them a powerlifter's preferred choice.
Half rack – With a half rack your movements are performed on the outside of the rack. And while this is a more budget friendly option the choice often comes down to your personal preference of lifting position.
Bench – Seems pretty self-explanatory, but there are a few things to consider when purchasing a bench press bench. If you compete in powerlifting, you should consider your federation's bench rules. The NZPF follows the same rules as the IPF:
Height – A bench must be no less than 42cm and not exceeding 45 cm measured from the floor to the top of the padded surface of the bench without it being depressed or compacted. The height of the uprights, which must be adjustable, shall be a minimum of 75cm to a maximum of 110cm measured from the floor to the bar rest position.
Length - not less than 1.22m and shall be flat and level.
Width - not less than 29cm and not exceeding 32cm.
Minimum width between insides of bar rests shall be 1.10 m
The head of the bench shall extend 22 cm beyond the centre of the uprights with a tolerance of 5cm either way.

You can find the full set of IPF's technical rules here.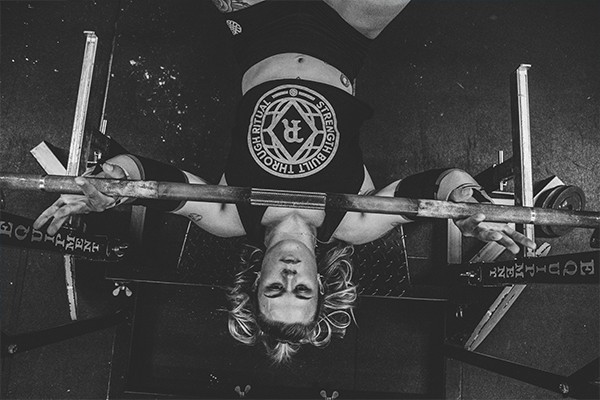 Barbell – Your choice of barbell is specifically important for powerlifting. As a powerlifter you are after a stiff power bar, which is used in competitions. This bar is made for you squats, deadlifts and bench press.
Tensile Strength should be high to create a strong, rigid barbell. Over 180,000 PSI is should do the job, however most good quality powerlifting bars will be over 190,000 PSI
Knurling should be aggressive and deep. This will allow for better grip on the bar for while working with heavy weights.
A centre knurl is important in order to prevent the bar from slipping down your back when performing back squats.
Powerlifting Knurl Marks should be present in order to regulate grip width.
The Shaft should have a diameter of between 28mm and 29mm in order to strike a balance between pushing and pulling movements.
Bushings should mechanically spin the sleeves. A bushing system is good at providing enough spin, but not nearly to the level that a bearing weightlifting bar would provide.
Weight plates – As a strict powerlifter the go to weight plates to use are steel/iron plates. Because of their density you are able to fit more weight on the bar, and will be similar to what you use on the competition floor. Some other pros to using steel bars include their durability, ability to be restored to new condition, and maybe best of all their lower price point than bumper plates.

Unfortunately, there are a few cons to steel plates. Unless you buy professionally calibrated plates there will be some weight variation (Known as weight tolerance). This means that is you buy a 20kg plate, it may in fact be 21kg. They will tend to rust in in our moist conditions. (Luckily as mentioned above, they can be restored). They are loud, which if fun to hear for you but may annoy close neighbours.
The Crossfitter
Crossfit is a very distinctive exercise regime. It is high intensity functional fitness that uses body weight exercises, combined with a few pieces of specialised equipment not normally found in typical gyms.
You will be stocking up on professional quality strength training equipment along with a few cardio options.
Some essential items include:
Power rack with pull up bar - You need a rack to hold weights for the likes of squats and bench press to allow you to work out safely. To save space in your garage you will want to opt for a high quality option which includes a pullup bar. Many power racks also give you the option of storing the weights along the sides of the rack.
Olympic Barbell - A good quality barbell which is versatile for multiple movements is crucial to allow for proper form during a WOD. Especially for Olympic moves such as snatches and clean and jerks. For this reason, crossfitters will use a bearing bar for all bar work.
Bumper plates – This is the style of weight plates commonly used in crossfit. Bumper plates have a set diameter with varying widths, making them more versatile for varying movement, including overhead Olympic lifts, as they are safe to drop from overhead during those intense WODS. Bumper plates are highly durable, less noisy than steel plates, and generally have a tighter weight tolerance. The main issue with bumper plates is their thickness which may limit the weight big lifters can put on the bar.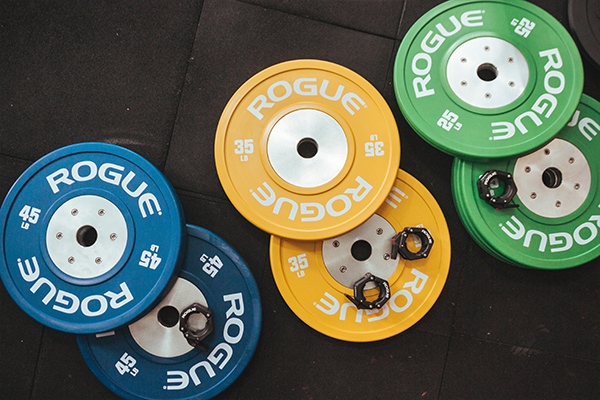 Kettlebells – These deserve a place in every gym. There versatility means they are used in heaps of moves including the well know kettlebell swings and farmers walk.
Weights bench – As a Crossfitter this used to be optional. Bench press never used to be a core exercise within Crossfit. That changed a few years ago when it got programmed into the Regional competition, and from there it had to become a staple in boxes around the world.
Jump Box – It is crucial that you use a purpose-built box designed to take the strain of exercises you plan to perform. These will include Box jumps, step ups, jump overs, and a wide variety of other torturous variations.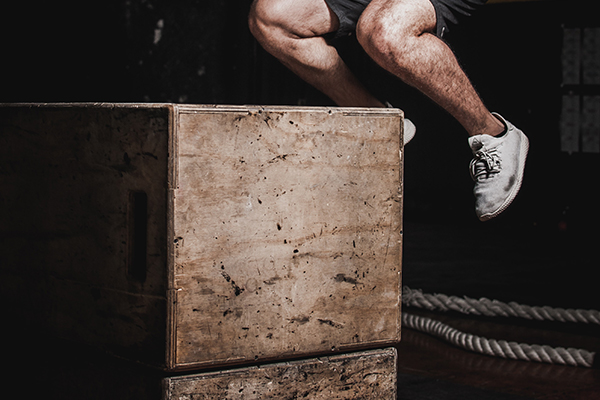 Climbing Rope – This one can be challenging in a garage conversion as you'll need reasonable ceiling height. If you do have the height, be sure to buy a purpose made climbing rope, and secure it to a load bearing structure. You don't' want to end up the focus of one of those blooper videos.
Rowing machine – The original cardio machine of choice for Crossfitters. The Concept2 rower to be precise. This machine is renowned for making you feel gassed in between other parts of you WOD.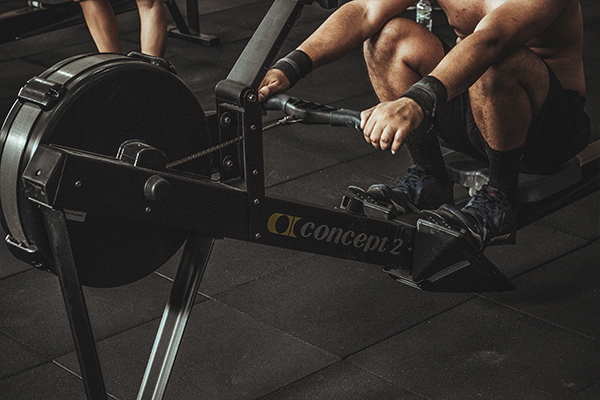 Air Bike – The air bike is the new comer to the cardio world, but it has earnt its stripes very quickly. This 'bike' will leave you curled up whimpering on the floor if you go too hard on it.
The air bike is becoming a growing trend on the gym scene because it basically gives your entire body a workout. The speed and power rely solely on how hard you wish to push yourself and you can burn up to 30 calories per minute. Another benefit is that this machine relives pressure on your joints while still getting maximum results in a short space of time.
The Boxer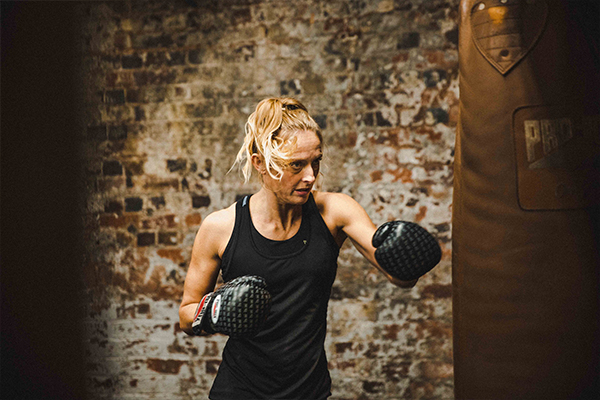 If you are opting for boxing style fitness you will get away with a few key elements:
Boxing Gloves and Hand Wraps - Invest in training gloves as opposed to "boxing glove". They are perfect for bag work, mitt work, and live sparring. Hand wraps are also essential to protect your wrists. This hand wear will prevent your wrists from getting injured or worse, breaking.
Punching Bag - One of the most important pieces of equipment you will need for your home gym is a punching bag of some kind. There are plenty to choose from, including a standard heavy bag, aqua bag, or a standing punching bag to name a few options. You can't go wrong with any of the available options, but there are some reasons you may want to choose a standing punching bag for your home gym.
With a standing punching bag, you simply fill the base with water or sand to keep it still in one place. No need to worry about chains and clips to secure your boxing bag to the ceiling.
The best option for a standing heavy bag on the market is the Century Bob. The Bob simulates a real person, allowing you to focus on punching technique to both the body and head. The Bob bag is height adjustable, so you can practice punching an 'opponent' of any size.
Speed Bag - One of the oldest boxing tools around, it helps a boxer learn how to throw punches with speed, accuracy and agility. To learn how to throw punches at angles that can hurt your opponent, use a speed bag to hone your skills. Hitting the speed bag also helps your endurance and quickness.
Speed Rope – Increase your foot speed, coordination, reflexes and endurance with this simple but handy item.
Additional Equipment Options
Focus Mitts - If you plan to train in boxing with friends or family, you should get a pair of focus mitts. Take turns wearing the pads and practice combination punching. If you plan on working out alone only, then don't bother buying any.
Ab Roller - Ab rollers are difficult to use, but with consistency they can help you sculpt ab muscles and get a six pack.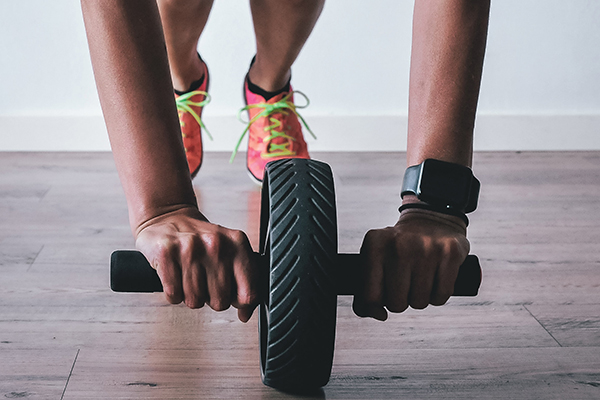 Weights - Any of the weights equipment mentioned above will come in handy. If slowly growing your collection, start with dumbbells, as these are the most versatile.
Storage Locker - A final suggestion for your home boxing gym would be to get a storage locker of some kind. It will be very useful to keep organised and store your boxing gear (e.g. gloves, wraps etc.)
The Generalist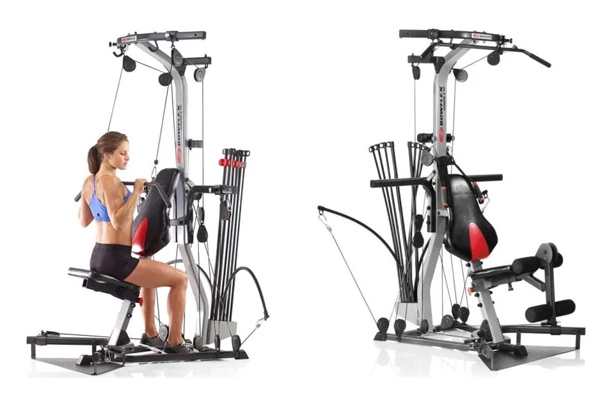 If you are simply aiming to get/stay fit at home, and don't want to accumulate lots of equipment, you basically need 2 items. One for Strength training, and one for cardio
For strength you should look at a Home Gym (Not to be confused with YOUR Home Gym) – The Home Gym is an all in one weight training machine which allows you to do a large number of strength movements on it. Bowflex has been a huge player in this space for decades, and continue to be a leader in the market:
The Bowflex Extreme 2 SE for example allows you to perform over 70 exercises!
For cardio you really can't go wrong with a good rowing machine. This low impact exercise works your entire body to help you increase endurance, lose weight, and get an effective aerobic workout.
As mentioned earlier the Concept2 Model D Indoor Rowing Machine is arguably the most popular rowing machine on the market. This machine, although one of the more expensive options is well worth the price.
Finally…add your own personal style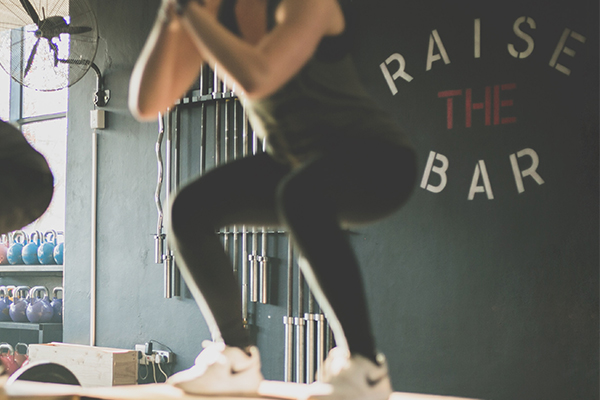 Last but by no means least, this is YOUR workout space so make it somewhere that motivates you to be in it. Hang an All Blacks flag, put up posters, show off old trophies. Whatever you like to keep you inspired.
Having your own personal gym can be a great investment if used properly and you have a routine to use it weekly. Don't allow yourself to get comfortable and get into a "I'll do a workout tomorrow" mentality, when really it is the same thing the very next day and you end up flailing on the couch after a days work.
Have a goal in mind where you will have the motivation to complete workouts – maybe change it up a little and move equipment outside when the weather is nice.
It works if you work it, but remember, having your own personal gym is a serious commitment.