Apr 16 2019
How to organise storage around the house
Having trouble keeping things organised around the house? You're not alone. We'd like to share a few tips to ensure you keep every room in your house as organised as possible.
Lounge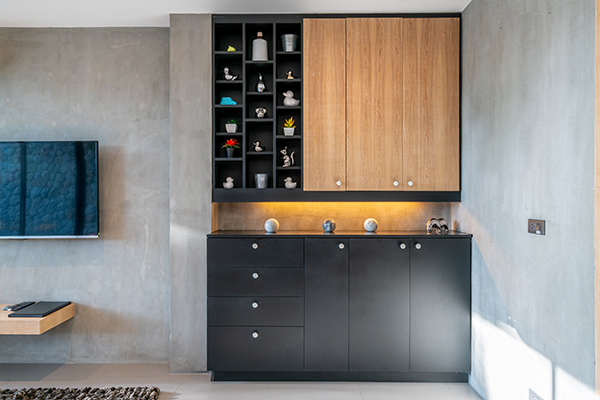 The lounge is one of the most used rooms of the house. It is safe to say a lot of stuff ends up being collected there. Especially on flat surfaces. Your aim is to keep these clear.
Start off by having a cupboard or table with several compartments that will aid in maximising on your lounge space. This is where you can store books and magazines, TV equipment, and video materials. It's important to have a system in place when it comes to storage so everything is organised and easy to find and doesn't take up space in other areas of the lounge. So, keep similar items together.
For additional storage invest in an ottoman that has storage space inside. Here you can store extra blankets for when it's a bit cold. You could also place a food tray on top of the ottoman, so it can double up as a table to pop your coffee on or serve as additional seating when you have guests over.
Another idea would be to install some floating shelving on unused wall space, where you can display framed photos or mementos of achievements. You could also place a bench underneath the window, which not only serves as additional seating space or act as a day bed, but you could also make use of the space underneath for storing things that don't get used often.
Kitchen
The pantry can often become overloaded with food items that are out of date or half opened. I suggest disposing of these items before rearranging.
Make use of empty vertical space inside the pantry by using stackable containers with labels, or alternatively installing extra shelving. You could also use undershelf baskets where you can store smaller items. Pay special attention to the upper shelves gathering dust and once cleaned, you can place less used appliances up there or containers with a list of contents attached.
Items that get the most usage are better placed at eye level. It's always handy to have some level of organisation when it comes to stuff like canned goods or packaged food. Invest in some shelf dividers or topless containers. Keeps labels on containers so everything is identifiable and also looks pleasing to the eye.
Make use of the space behind doors or on the sides of the cupboards and install hooks or racks to house other items. You could also apply the same idea to the space underneath cupboards by hanging mugs or pots and pans. Installing a knife rack or utensils holder near the stove top keeps items within easy reach and also opens up some cupboard space for other items.
Don't forget about the empty space above the fridge or on top of the cupboards. Some ideas include putting in a wine rack or storing seasonal gear, like appliances, party items or baking trays and other whiteware.
If there is space available, a breakfast table would come in handy to store cookbooks, cutting boards and other related kitchen gear.
Underneath the kitchen sink is normally where you would find cleaning gear and a rubbish bin. I would suggest getting some appropriate shelving underneath and make use of the vertical space. You could also place a rack that fits inside the sink to hold things like dishwashing liquid, sponge and cleaning brush. Alternatively, attach a rack to the back of the cupboard door to house kitchen items of your choice or install hooks to hang linen from.
Bathroom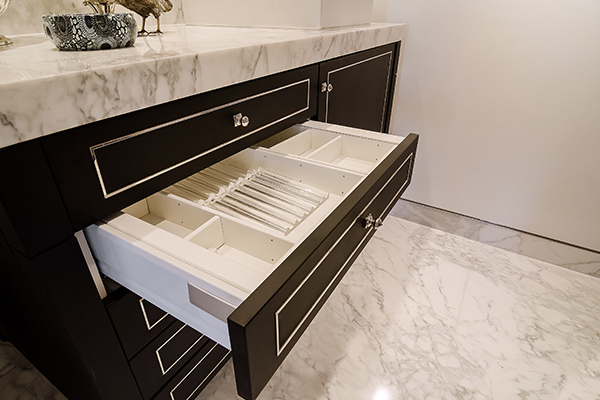 Underneath the bathroom sink you could consider installing some cupboards or free-standing shelves. Again, to maximise on space, you could insert some hooks or a rack to store items such as hair dryers or hair straighteners.
Another good idea would be installing a cabinet behind the mirror to store smaller items. If sink space is limited, you could attach a holder on the side of the cabinet to hold things like toothbrush and toothpaste. Otherwise a rack that stands over the taps would work just as well.
Make use of the unused space on the walls or behind the door and hang towels or bathrobes. Install some towel racks to hang towels from and wire cabinets to hold toilet paper or other well used items.
Purchase a shower rack that you can place over the frame that can hold shampoo, conditioner and other soap accessories. This also lifts items off the floor, which in some cases can be a safety hazard.
Bedroom
One idea for storage space is to recycle old drawers and place underneath the bed. You could even add wheels underneath the drawers for ease of movement. An alternative would be to use size-specific containers to store items underneath the bed.
You could also make use of empty corners and install shelving, otherwise create a shelf above the door to store knick knacks and display other collectibles. If you're feeling a bit creative, make some shelving to frame the headboard of your bed. Everything is within reach and very handy if storage space is limited in your bedroom.
Invest in a sleeve or attach a box to the side of your bed. Here you can place the TV remote, phone or charging cables, all within easy reach.
Make use of the empty space on top of the wardrobe and store your suitcases or items that don't get used often. If suitcases are empty, you could also use these to store out of season clothing or thicker blankets in the summer.
Space on the back of the bedroom door or on the back of the cupboard door could be used to hold an over the door shoe rack. Or with the use of several hooks, you could hang your beloved collection of sports hats or other well-loved memorabilia. An alternative to this is to hang a corkboard or a pegboard from the wall.  The possibilities are endless – you can hang photos of family or friends, hang important documents or display your jewellery collection.
Garage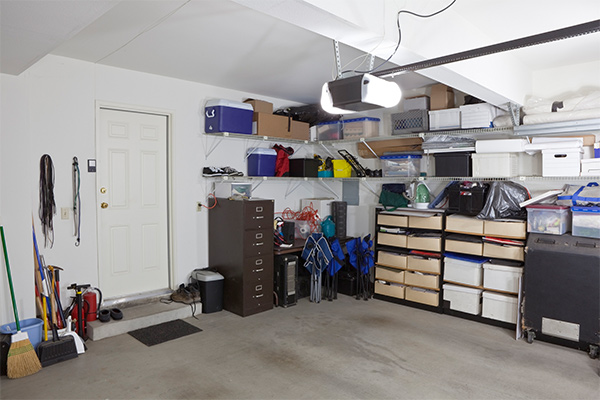 Gain control of your garage again and stop the clutter of unwanted items. You will find that most garages are filled with things that you are unsure what to do with. Take the time to sort through all the junk and invest in some cabinets or shelving to store stuff that you intend to keep. Make sure to store everything according to type of equipment i.e. tools, sports equipment and car cleaning gear.
Think about putting up some boards on the wall and adding hooks to display all your tools freeing up shelving space for other items.
A neat trick is to lift things off the floor and install racks from the ceiling where you can store items that don't get a lot of use. This clears extra floor space where you might achieve the goal of actually fitting your car inside the garage! Not an easy task at all
For those items that are not pleasing to the eye, store accordingly in the side of the garage and put up a curtain or a room divider to separate from the rest of the room.
Once you have taken a look around the house and maximised on areas of space. If there is not enough storage space to keep everything, you could consider storing at your local self storage facility for a set period of time.