Mar 7 19
How to pack a storage unit
Are you getting the most out of your storage unit? It is surprising how many people pack their belongings into storage without any sort of plan as to how they will find items later, or even accessing items while still in storage.
If you take some time initially to plan the layout of your storage unit, it will save you plenty of time and energy in the future. You will also more than likely be able to fit more belongings into your unit than if you simply stuffed them in there.
You can get an idea of how much space you need by using our handy space calculator.
Start a list
If you create a list of items which go into storage you will be able to easily check where an item is if you are looking for it.
A list will also be helpful in the event that you need to claim insurance. It is recommended that you insure any items going into storage in the event of natural disasters.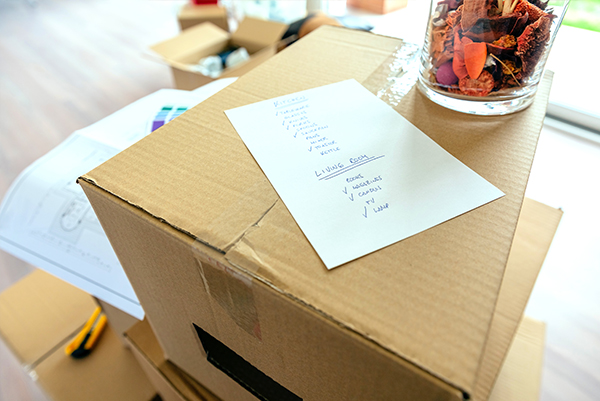 Clean, dismantle, and wrap furniture
When placing furniture in storage for an extended period it is highly recommended that you wrap them in a protective cover.
Firstly, you should wipe down the furniture with a cleaning product. Leather furniture such as sofas should be cleaned with specific leather cleaner to help moisturize the leather. Care should be taken to lift any cushions to clean hidden areas. You can watch our brief video on how to protect you leather sofa here.
Once cleaned allow sufficient time for the furniture to dry. Covering them while still damp is likely to cause build up and potential deterioration of material.
Items such as tables which can have legs removed should be dismantled and packed as flat as possible. Place any screws and bolts into a well-sealed plastic bag and label the bag appropriately. Set aside a small box to place all the bags into.
You can purchase durable plastic wraps specific to various furniture items including mattresses. A good quality wrap will be strong enough to grip while carrying the furniture without ripping. You will want to seal the wrap with packing tape. When taping, avoid placing tape directly to furniture surfaces. This can cause damage when being removed.
A box for everything
Large items such as furniture aside, you should be able to pack all of your items for storage into an appropriate box. This is both for organization and efficiency.
Using appropriate boxes will firstly allow you to label them to find items later. Boxes should be labelled on the side which will be visible once stacked. Be specific. Label the room the box has come from, and the different types of items which have been packed in it.
If there are gaps in the box, filler products such as bubble wrap, or acid-free tissue paper should be used.
For flat items such as mirrors, pictures, and TV's you are able to buy specialized boxes to store them safely. Flat items should generally be stored upright on their edge. TV's specifically should never be stored flat. If you need to store pictures or mirrors flat, be sure to place them at the top of your pile of boxes.
Be sure that all boxes can be closed properly to provide a flat stackable surface. Using sets of boxes which are the same size will make for much easier and more efficient stacking in your storage unit.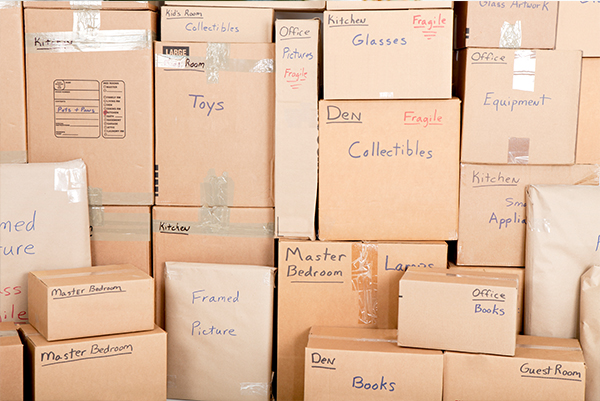 Leave paths for access
While you may not need to regularly access items in storage, you don't want to find yourself having to unpack the entire unit to find one small item tucked away in the back. Make sure you are able to see every box you have packed, an have enough space to move it out if need be.
Large and heavy first
Tall item such as mattresses and fridges should be stacked first, up against the wall and out of the way, to prevent any potential mishaps.
When stacking boxes your heaviest items should go down first working your way up by weight, with delicate items going on last to prevent crushing.
No Hazardous Items
Be careful not to store any combustible items, such as paint or chemicals. This not only creates a dangerous situation for your belongings but those of other customers.
If you plan on storing you barbeque, they should be thoroughly cleaned, and any gas bottles should be empty.
Petrol lawn mowers, and the likes should also be emptied prior to storing.
Plan to forget
f you are storing items for a significant amount of time, you will likely forget where in the unit you have stored things. While having labelled the boxes will help – to save even more time, draw a quick reference map of the unit once everything is packed, and tape it to the inside of the door of your unit.
For more information on best practice for storing items visit our How To Store page.