Feb 14 19
Organising and Storing your Clothes
As you peer into your overflowing cupboard and chest of drawers, you see a large array of clothing that have been purchased with your well-earned money. Some you wear often, some haven't seen the light of day for a few years now.
For those impulse buyers out there, doing a regular cleanse of your clothes is sometimes essential. Some people actually find it incredibly therapeutic.
Whenever you start you cleanse you should separate items into four piles:
1. Store
2. Bin
3. Donate/Sell
4. Use
Once you have separated your piles you can focus on further organising the clothes going into storage. When deciding whether clothes should stay in your wardrobe, or go into storage, the easiest option is to separate clothes by seasons. Keep you stored clothes organised by pack according to type of clothing, for example, coats and hoodies, pants and shorts.
Option 1 is for those of us who have a hard time letting go. Putting your clothes into storage is an excellent option for keeping your wardrobe uncluttered. Kiwi Self Storage can help, with a wide range of storage units, suitable to meet your storage needs. With this in mind, when it comes to storing your beloved clothes, it helps to pay special attention to the details and be well prepared to ensure your items remain in pristine condition for years to come.
When keeping clothes in storage the key is to have the appropriate packaging materials at hand as well as specially designed boxes – whether this is cardboard or plastic to pack your clothes into. You should also clean all the clothes prior to storing away, so they are free from dust, dirt and stains – all of which are detrimental to clothes over time and can cause irreparable damage.
Complete a thorough check of the containers or boxes you plan on using. Make sure there are no visible holes and if so make sure this is repaired or covered accordingly. The idea is to eliminate any chance of dust, insects or moisture or mould getting in. For additional protection you can line your container or box with acid free tissue paper. You can find out the benefits of acid-free tissue paper on one of our previous articles, here.
A good rule of thumb is to package the heavier items on the bottom and lighter items on top. It is also a good idea to write a list of contents of each box/container and have this clearly written or attached to the outside which helps if you ever have to come back to your storage unit and locate a specific item.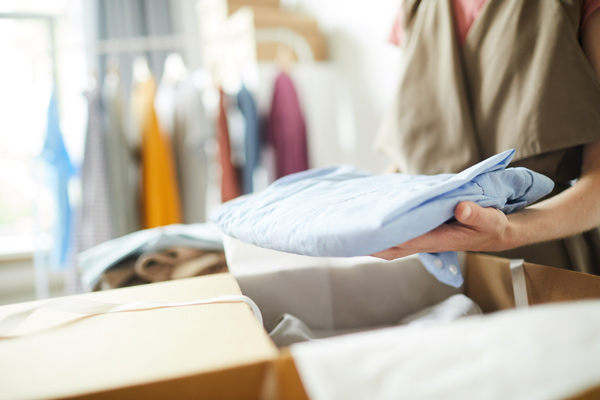 For the more delicate items, like bridal gowns, suits or costumes, you should ideally purchase specialized wardrobe boxes such as a Port-A-Robe or another suitable alternative so you can hang these items without causing any unnecessary damage while in storage. Again, using acid free tissue paper is important and using a clothing bag made of breathable fabrics, should be used as an additional cover. With Port-A-Robes, you also have the option to store footwear at the bottom of the box. Again, ensure that you clean each pair of footwear to guarantee the quality of your items.
There are some tips that recommend vacuum sealing bags to save space while in storage. This should only be done for short term storage, not long-term storage. The reason for this is that over time the natural fibres of clothes will lose its structure from being compressed for a long period of time and cause quite a bit of damage to your clothes. For treasure items, I would suggest an alternative method, such as a clothing bag with breathable fabric or acid free tissue paper.
When deciding where to store your clothes you want to make sure you have a dry clean space. Self storage units are an excellent option if you do not have spare space in your home. If you keep clothes in storage which don't end up getting used throughout the year, do an annual check to inspect everything to ensure your items remain in good condition. It is a good idea to fold your clothes again, possibly check if you still want to keep specific items and reconsider donating them.